In This Issue
Past Issues
Book Reviews in this Issue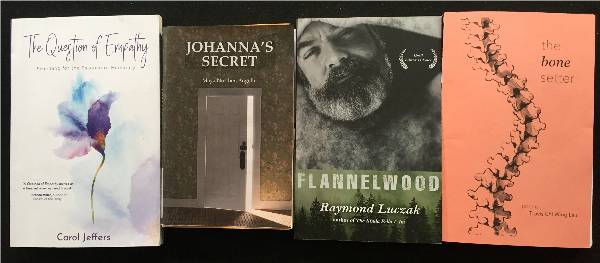 The seven books reviewed in this issue cover a diverse range of literary genres and reinforce the important point that not all books by disabled authors deal directly with disability. Four novels are reviewed: Maya Northen Augelli's thoughtful mystery Johanna's Secret; Nicola Griffith's So Lucky, whose central character is diagnosed with MS; J. L. Powers' dramatic young adult novel of life in South Africa; and Raymond Luczak's Flannelwood, a Quill Editor's Choice book. Carol Jeffers' book, as its title suggests, is a uniquely written investigation of the sources of human empathy. Of course, there are also reviews of new poetry books and these books not only differ style and subject but illustrate the varied possibility for poetry publication. Kara Dorris book comes from Finishing Line Press, an independent press that, while not focusing on disaled authors, has shown a great willingness to publish their poetry. Sara Elizabeth has opted for self-pubication, while Travis Lau decided to go with a chaplet from Damaged Goods, a publisher who has made that possibility available. Together these three books illustrate the variety of possibilities open to poets.
In addition to the reviews, in our excerpts section, readers will find "The Word", a chapter from Christine Stewart-Nuñez's memoir The Fall Into Screams.
Reviews of other books by Kara Dorris, Raymond Luczak and J. L. Powers can be found by checking under the Book Reviews heading in the Author's Index.
As always, Wordgathering is indebted to those who offered their skills as book reviewers. In this issue they are Amelia Cotter, Amber Farley, MaryAnn L. Miller, and Sean Mahoney. Writers who would like to review books for this journal or would like to have their own books reviewed should send a query to comments@wordgathering.com.
Return to Top