In This Issue
Past Issues
Book Reviews and Excerpts in this Issue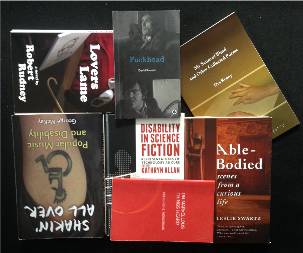 Continuing its tradition of giving Wordgathering readers a first look at new books of disability-related poetry . The first is a new book from Brian Teare in which he combines his interest in Buddhism with structures provided by minimalist painter Agnes Martin. To this is added the debut book of Karyn Lie-Nielsen, whose poetry reflects her experiences as the hearing child of deaf adults. Mixing poetry and personal essay, another first book – this one by Rebecca Chamaa – is a coming out book about experiences with schizophrenia. Raymond Luczak's new book enlarges his reputation as one of the most prolific anthologists for the writing of people with disabilities. This time he looks at the intersection of disability and LGBTQ work. In our final review, Arabic literature scholar Saloua Ben Zahra takes a look at disability and post-colonialism in a novel by Joseph Geraci.
For readers interested in getting an additional look at some of the above books, there are two opportunities in the Excerpts section. "Becoming Invisible" is a short essay from Rebecca Chamaa's Pills, Poetry and Prose, and Raymond Luczak's anthology is represented by the writing of poet Liz Mammone, one of the many writers represented in QDA. A final excerpt in this section is the introductory chapter in Tito Mukhopadhyay's latest book Plankton Dreams. Readers of Mukhopadhyay's previous work will recognize him as one of the few published authors diagnosed with autism who consistently critiques the established wisdom through the use of humor.
For writers interested in getting their books out to more readers, an upcoming event should be exciting. That is the formation of the Disability Literature Consortium, a group that will be representing the literary work of writers with disabilities at the 2016 AWP conference in Los Angeles. The interview with Sean Mahoney in the September 2015 issue provides a detailed discussion.
As in previous issues, Wordgathering is fortunate to have perceptive reviewers who contributed their time and work, making it possible for readers of this this journal to know about some of the latest disability literary work available. Reviewers for this issue are Jennifer Bartlett, John McClafferty, Michael Uniacke and Saloua Ben Zahra. Wordgathering welcomes hearing from other writers who are interested in writing book reviews and writers or publishers interested in having a disability-related book reviewed. For the latter, please send a query, briefly describing the book.
Return to Top