In This Issue
Past Issues
Book Reviews and Excerpts in this Issue
This issue of Wordgathering presents reviews of three new disability-related books and excerpts from two books that will be published in early 2017. The reviews cover one novel, a book of poetry, and a lyric essay. Many readers who know the work of Floyd Skoot, but do not think of him as a novelist, may be interested in The Phantom of Thomas Hardy. Angeline Schellenberg's first full-length book of poetry focuses on her life as a mother of two children with autism. Loretta McCormick reviews poet Amy Berkowitz's essay Tender Points, providing a feminist perspective on fibromylagia.
In addition to checking out the reviews of Schellenberg's and Berkowitz's newest work, those interested in poetry can also get a taste of Constance Merritt's most recent book through a sample of the poems included in excerpts section. The other excerpt is a selection from Anand Prahlad's upcoming memoir The Secret Life of a Black Aspie.
Wordgathering is also happy to announce the January release of an anthology of short disability fiction edited by two of the this journal's editors, Sheila Black and Michael Northen, together with Annabelle Hayse. The anthology, The Right Way to Be Cripple and Naked will be published by Cinco Puntos Press. Like its poetry predecessor, Beauty is a Verb, this will be a first of its kind collection by writers with disabilities. Included in this anthology are stories by writers who are nationally known like Thom Jones and Dagoberto Gilb as well as writers like Anne Finger and Kobus Moolman who have appeared in Wordgathering are all well-known to the disability writing community.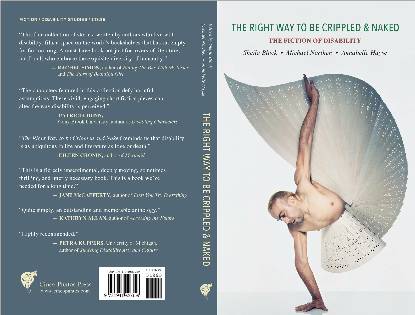 Those interested in ordering a copy in advance can do so by clicking here.
Finally, as many of you know, the Disability Literature Consortium launched its first effort to sell the literary work of writers with disabilities at the 2016 AWP Conference in April. The DLC will be returning to AWP this year when the conference is held in Washington, DC in February 2017. Writers who are interested in having copies of their work available at the consortium booth, should inquire at dislit666@gmail.com.
Return to Top