In This Issue
Past Issues
Book Reviews and Excerpts in this Issue in this Issue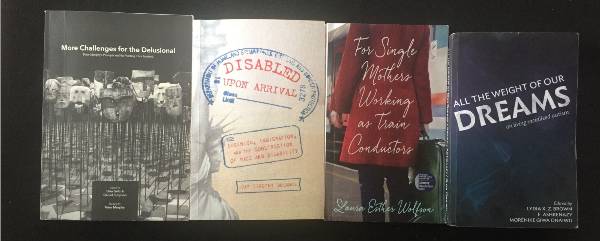 The groiwng variety and range of disability literature is on full display in this issue with the seven books feature. Three of the books are anthologies. Editors Lydia X. Z. Brown, E. Ashkenazy, and Morénike Giwa Onaiwu have compiled the first ever collection of writing from autistic people of color, Emily Dorffer has put together a short story collection from the work of writers with disabilities, and poets Ona Gritz and Daniel Simpson offer of both the prompts and results of years at Peter Murphy's Prose and Poetry Getaway workshops. Two other writers are represented with collections of their work. For Kolbus Moolman,it is a collection of short stories set in South Africa. For Laura Esther Wolfson it is a collection of essays ranging from her work as a Russian translator to her diagnosis and disability. We finish off we two highly-regarded writers in the field of disability literature. With his typical humor and gift for words, poet and memoirist Stephen Kuusisto tells the story of his first guide dog, in Have Dog Will Travel. In a very different vein, Jay Timothy Dolmage looks at the relationship among disability, eugenics and immigration in his timely book Disabled Upon Arrival
In addition to these reviews, Wordgathering previews of two other works in its Excerpts section. Heather Hood's "Prologue" is the first chapter in her book Spirit to Spirit set among native peoples in western Canada. Disability-related drama is among the rarest forms of disability literature, so this journal is excited to be able to bring readers two scenes from Anna Tatelman's play Life on the Moon about two siblings, one of whom has autism.
One of the ways that Wordgathering's attitude towards book reviews differs from most other journals is in its willingness to occasionally review manuscripts that have not yet found a publisher. In its September 2015 issue, Wordgathering reviewed MaryAnn Miller's manuscript for her poetry book La Belle Indifference . Miller's manuscript has recently been published by Finishing Line Press and their incredile editor Leah Maines as Cures for Hysteria. Though it remains a fresh and important book, the gap between composition and publication of Miller's volume illustrates both the need for publishers committed to publishing the work of disabled writers and the importance of reading journals like Wordgathering and others in the Disability Literature Consortium that can make new poetry available as it happens.
Interviews in Wordgathering give readers another angle from which to look at the work of writers, publishers, and others involved in disability literature. The first interview in this issue is with Corbett O'Toole, the founder of the relatively new Reclamation Press. It focuses on the publication of work by writers with disabilities, such as the book by Raymond Luczak above. The second inteview, conducted by writer Shane Neilson is with Canadian poet Kevin Spenst whose latest book deals with his father's schizophrenia.
As always, Wordgathering is indebted to those who offered their skills as book reviewers in this issue: Patricia Dunn, Anne Finger, Anne Kaier and Emily Michael. Each of them is an accomplished writer in their own right whose work can be seen listed in the journal's "Author Index." This journal is continually looking for writers interested in revieing books in addition to recommendations for new books by writers with disabilities or in the field of disability literature to review. Queries can be addressed to comments@wordgathering.com.
Return to Top